What is an "

allergy

"?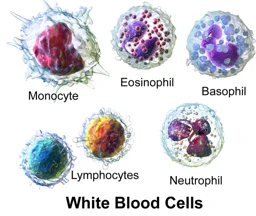 Our immune system creates white blood cells to attack whatever it believes is dangerous, and those cells produce
histamines
and
antibodies
.
Our immune system is supposed to attack only substances that are
dangerous
to us, such as certain types of bacteria or viruses, but if our immune system attacks something that is
harmless
, such as pollen or peanuts, the result is an "
allergy
".
This can result in excessive mucus, watery eyes, asthma, itches, skin rashes, abnormal heart rate, and even
death
.
If our immune system attacks
healthy
cells, the result is an "
autoimmune disease
". This creates health problems that are
extremely
confusing and difficult to diagnose.
How many people have allergies?
We do not have the knowledge to accurately determine

who

has an allergy, or to what substances a person is allergic to, but according to

these

statistics, more than

50 million

Americans suffer from an allergic reaction

every year,

which is about

15%

of the US population.

Nearly 11% of the American adults and 8% of the children have

food

allergies; 4% of the population has an allergy to

latex

; and 5% have allergic reactions to

insect stings

, and nearly

100

Americans

die

every year from

insects

because they have such a bad allergic reaction.

The financial burden of allergies is

estimated

to be about

25 billion

dollars every year for the USA.




Whose

reaction should classify as an "

allergy

"?



The Wikipedia describes a person as having "

mosquito bite allergy

" if he has an "

excessive

reaction

" to a mosquito bite, and

this

document tells us that people who have a "

significant

allergic reaction to mosquito bites

" have

Skeeter Syndrome

, but how do we determine whose reaction to mosquitoes has crossed the line from "

normal

" to "

excessive

" or "

significant

"?

When we are bit or stung by a flea, mosquito, bee, wasp, or other insect, our immune system reacts by attacking the foreign molecules that the insect injects into us. This results in most of us (or

all

of us?) developing a small, circular area that swells and itches, but some people suffer from reactions that are more serious, such as a difficulty in breathing, or an increase in their heartbeat.

The allergy statistics claim that only 5% of the American people are allergic to insects stings, but since each of us reacts with swollen bumps, how do we decide

which

of our reactions should classify as an "

allergy

"?


There are

no dividing lines

between us



Animals and humans have a tendency to divide everything into

two groups,

such as friend and enemy, safe and dangerous, and moral and immoral. As a result, we tend to believe that a person either

has

an allergy, or does

not

.

If allergies were the result of just a few genes, then it would be possible for some people to have those genes, and for other people to

not

have the genes, thereby allowing us to divide the human population into two distinct and independent groups, as depicted in the pie chart above.

However, our immune system consists of a lot of

complex components

, such as white blood cells, bone marrow, and lymph nodes, and that complexity could not possibly be the result of only a few genes.

Furthermore, the people who have allergies are

not

allergic to the

same

chemicals, and the people who are allergic to a particular chemical do

not

have the

same

reaction to it. The wide variation in the chemicals that we are allergic to, and the wide variations in our reactions, is more evidence that our immune system is very complex.

Our immune system might be the result of

thousands

of genes, and a

haphazard mixture

of thousands of genes is certain to result in each of us having a

similar

but

unique

immune system with slightly different characteristics, limitations, and defects. Therefore, if we could analyze each person's immune system, we would

not

be able to divide people into two distinct categories; namely, those

with

allergies and those

without

.


I suspect that

100%

of us have allergies



The statistics claim that only 15% of the population has an allergic reaction each year, which could be interpreted as meaning that 85% of the population does

not

have an allergy, but two reasons to believe that

everybody

has an allergy to something are:
1)
I suspect that a lot of us have an allergy to a chemical that we don't come into contact with very often, thereby fooling us into believing that we don't have an allergy. For two examples:




•

Most people have an allergic reaction to urushiol, which is produced by poison ivy, poison oak, mangoes, and other plants, so if each of us were exposed to that chemical at least once a year, then we would experience an allergic reaction every year.


•


Sesame seeds

are the ninth most common food allergy in the USA, but most of us rarely eat them, or we eat only tiny amounts, such as those that are sprinkled on top of a burger bun. Therefore, there are probably some people who are allergic to sesame seeds but do not realize it because they don't eat enough of them to notice a bad reaction to them.



2)

I suspect that a lot of people who assume that they do

not

have allergies are occasionally having allergic reactions that are

so mild

that they don't consider it to be an "allergic reaction". For example, sometimes our nose or eyes will produce more mucus than normal, but how do we determine if the increase is due to a mild allergic reaction?


Our immune system can

adapt

to our

environment





To complicate the issue of allergies, our immune system was designed to adapt to an unknown environment, but we differ in how well our immune system can adapt. As a result, some people have the same allergic reaction to an allergen throughout their life, whereas other people have less of a reaction as the years pass by.

For example, poison oak was common in my neighborhood when I was a child, and I frequently got rashes from it, but I noticed that by the time I was a teenager, I was no longer having rashes. My body seemed to have adapted to it.

The people who have an immune system that is the best at adapting to the environment will appear to be free of allergies when in reality they had one or more allergies when they were younger, but their immune system learned how to deal with the allergens.

The people who had an allergy when they were children, but who have an immune system that learned how to deal with it, should

not

be described as "free of allergies". We need a different category for those people, such as "overcoming an allergy", or "adapting to an allergen". The people who

never had the allergy

are genetically superior.


Can our environment

create

allergies?



A recent study shows that air pollution

appears

to cause some people to develop certain autoimmune diseases. Since an autoimmune disease is not much different from an allergy, we ought to investigate whether certain chemicals can also cause some of us to

develop allergies.

There is already evidence that some of the insecticides, herbicides, and other chemicals that we are spraying all over the planet are causing health problems for

frogs

, birds, and other animals and plants, and since

humans are animals,

we ought to be concerned with what those chemicals are doing to

humans.


What is a "

normal

" immune system?



This

dictionary defines "allergy" as:

An abnormal reaction of the body to an allergen, manifested by runny nose, skin rash, wheezing, etc.

Defining an allergy as an "

abnormal

" reaction is as

useless

as defining Skeeter Syndrome as a "

significant

" allergic reaction to mosquito bites because those adjectives require us to specify what a "

normal

" reaction is.

What is a "

normal

" reaction to an allergen? Since we have a strong craving to follow the crowd, we have an emotional preference to assume that "

normal

" is whatever is "

typical

" for the

majority

of people. However, as I pointed out in a previous

document

, it is more useful to define "

normal

" according to a

perfect human

. The majority of people should be described as "typical" or "average", not "normal".

What would the immune system of a "perfect" person be like? It would be an immune system that protects us from pathogens

without

causing "collateral damage", such as swelling, heart palpitations, itching, or excessive mucus production.

If we considered a "perfect" human to have a "

normal

" immune system, then comparing ourselves to that imaginary person would bring us to the conclusion that nobody has a "

normal

" immune system. Rather, we would conclude that the majority of people have a "

typical

" immune system with an "

average

" number of limitations and defects, and that the people with the best immune systems have

fewer

and/or

less serious

defects.


Does anybody have "

normal

" intelligence?



We should

also

apply that concept of "normal" to our

minds

. Specifically, we should describe a person to have "

normal

" intelligence if his brain has been designed "

perfectly

".

We are already using this concept in regards to material items. For example, a telephone, refrigerator, and robot is considered to be "normal" if it is functioning perfectly. For example, if the majority of robots that were being produced at a factory were behaving inappropriately, we would not describe them as "normal" robots. We would instead say that the factory has such terrible quality control that most of the robots are "defective".

Humans are essentially biological robots, but the "factory" that produces us does not have any intelligent supervision or quality control. Instead, every person that comes out of that factory is a haphazard jumble of genes. The result is that

all of us

should be classified as abnormal, defective, flawed, and imperfect.

If, instead, we were to consider a person to have a "

normal

" mind if his mental characteristics were

typical

of the majority of people, then we would consider a person to be

normal

if he cannot handle the truth about the 9/11 attack, evolution, the Holocaust, or the Apollo moon landing, and if he had trouble controlling his eating habits, temper, sexual cravings, and arrogance.

It would be more useful to consider a human mind to be "normal" if it is functioning "perfectly". What would a perfect mind be like? It would be a mind that has all of the

best

genetic qualities from the human gene pool, and none of the defects.

With that definition,

none of us

have

normal

intelligence or emotional characteristics because it is virtually impossible for one of us to get all of the best genetic qualities and none of the low-quality genes.

Instead of describing the majority of people as having a "normal" human mind, they should be regarded as having a "typical" mind, or an "average" mind.

One of the advantages to describing "normal" in that manner is that it helps to dampen the arrogance of the people who are above-average in intelligence. They have a tendency to titillate themselves and one another with praise, and they often look for opportunities to insult other people for being inferior to them. They should

not

regard themselves as being

super geniuses

. Rather, they should regard their mind as "

less defective

", or "

less abnormal

", than the "typical" person.

Schools could emphasize this concept, and help students control their arrogance, by giving grades that are described like this:

A The least stupid
B Less stupid than average
C Average stupidity
D Below-average stupidity
F More intelligent than a monkey


Our prehistoric ancestors were as arrogant as we are, but their arrogance was kept under control because they could not boast about college diplomas, high salaries, awards, or mansions. They were also routinely intimidated by the complexity of the world, and how any of them could die at any moment for reasons they did not understand.

Today we allow our arrogance to get

out of control,

so we should

experiment with our culture

in order to find a way to dampen our arrogance and encourage more advanced behavior.


Does anybody have "

normal

" vision?



This concept also applies to our eyesight. Specifically, none of us should be considered to have "normal" human vision.

Everybody is aware that some of us have eyes that provide sharper images, but most people assume that we all see the same colors and have the same night vision. However, even though all of our eyes are similar, they are not exactly the same. If we could look through other people's eyes, we would see that the colors are slightly different, and so are the contrast and brightness levels.

The human retina has three

different

photoreceptor cells, which makes us more sensitive to those three colors rather than equally sensitive to the entire spectrum. Therefore, how can we be certain that we are getting an accurate view of the universe? Furthermore, as the light becomes more

faint

, our color receptors begin to

fail

, giving us an increasingly inaccurate view of the world. Also, does the word

Blue

in the black bar below seem

darker

than the word

Yellow

because our eyes do not see blue as well?
To add complexity to the issue, our sun does not produce all frequencies of light equally, and our location on the earth, time of day, and the atmospheric conditions affect how much of each frequency we see.
How do we know if our eyes are giving us an accurate view of the universe? How do we know if our ears and nose are interpreting sounds and odors correctly? There is no right or wrong way to interpret the reflection of light, or the vibration of air molecules, or the chemicals in the air. It is our
arrogance
and our
ignorance
that causes us to believe that we are interpreting the world correctly.
If there are aliens on another planet, they might have a retina that can see more than red, green, and blue, so they could claim to have a more accurate view of the universe than we have. They might have also controlled reproduction so well that they have caused their eyes to evolve to match the typical frequencies that are passing thought their atmosphere.
Our modern environment exposes us to new things
To complicate the issue of allergies, our body has some bizarre reactions that are similar to allergic reactions, but which would be better classified as "
limitations
" of our genetic design rather than an "allergy". For example, when I, and apparently a lot of
other
people, eat foods that have a lot of capsaicin or vinegar, the top of my head perspires and my nose produces a watery mucus, but
not
because I am "allergic" to capsaicin or vinegar.
It would be better to describe that reaction as a "limitation" of the genetic design of a human as a result of our prehistoric ancestors evolving for an environment that had such low and intermittent levels of vinegar and capsaicin that our body never developed a proper response to those chemicals.
Likewise, our eyes
increase
their production of tears when we cut into raw onions, but is it because we are "allergic" to onions? Perhaps, but it might be more accurate to describe that reaction as another limitation of the human body as a result of our ancestors not having much contact with raw onions.
How many other limitations does our body have? Is
brain freeze
another inappropriate reaction that we should describe as a
limitation
of the genetic design of a human because we did not evolve to eat frozen foods?
Incidentally, those bizarre reactions should be regarded as more evidence that humans are a
haphazard modification of a monkey

,
and that there is
no intelligent entity
supervising evolution.
None of us is
perfect
When we discover that a
complex
genetic feature, such as an immune system, liver, brain, or digestive system, is
defective
in a
large
percentage of the population, we should consider the possibility that the gene pool has so many defects that most – or all – of the "perfect" creatures are
also
defective, but in such a subtle manner that they appear to be perfect.
In regards to humans and allergies,

most

people have allergic reactions to something, such as insect bites and poison ivy, so we should consider the possibility that the human gene pool has so many defects in the immune system that

nobody

has a perfect immune system.

This concept is similar to what I've mentioned in other documents; namely, that a

significant

percentage of the human population is involved with adultery, theft, overeating, drug abuse, and other undesirable or dishonest activities, and people have been involved with these activities all throughout history, and in every society. The undesirable behavior is

so common

that we should

not

dismiss it as being due to "genetic mistakes", as we can with albinos and Siamese twins.

Undesirable behavior is very common because it is the result of genetic characteristics in

the human gene pool.

They are characteristics that we

inherited

from the animals.

All of us

are likely to have inherited the undesirable behavioral characteristics, but the subtle differences in our thinking abilities, self-control, and other characteristics results in some of us doing a better job of suppressing our undesirable cravings.




Everybody

has an allergy to

something





If we had the technology to analyze each of our immune systems, we would find a

spectrum

of immune system responses, although I doubt if the graph is symmetrical (such as the graph below).





At one extreme are the people who have the

least

problems with allergies, and at the other extreme are the people who

die

from contact with peanuts or penicillin.

I suspect that the people who assume that they do

not

have allergies actually have one or more allergies, but they assume they are

perfect

because:






I suspect that

everybody

has at least

one

allergy.
| | | |
| --- | --- | --- |
| | • | They have an allergy to a molecule that they rarely encounter because of their particular diet or environment. |
| | | |
| | • | Their reaction is so mild that they don't realize that they have an allergic reaction. |
| | | |
| | • | Their immune system learned to adapt to the allergen, at least to a certain extent, thereby causing them to be oblivious to their allergy. |
| | | |
| | • | They do not regard certain reactions as an "allergy". For example, they don't regard the itchy bump from a mosquito bite to be an allergy. |
The advantage to assuming that everybody has a mild allergic reaction to at least one allergen is that it can cause us to be more aware of how our body is reacting, thereby increasing the chances that we notice one of our allergies.

If we ignore the possibility that we have an allergy, then we will never improve our lives, but if we can discover what our allergies are, then we have the opportunity to reduce the problem, thereby improving our life by reducing mucus production, throat clearing, itching, uncomfortable feelings, or other unpleasant reactions.


Allergies are

detrimental

to our lives



Allergies are

detrimental

to a person's life because, as I pointed out in previous documents, (such as

this

), health problems can interfere with our life in many ways.



For example, we do

not

want to be around people who are frequently blowing their nose, sniffling, or scratching their skin, and as a result, people with allergies are at a disadvantage when trying to attract a spouse and friends, and when applying for certain jobs.

Surveys show that

almost

everybody picks their nose occasionally. The people who do this in public buildings are sometimes wiping the mucus on furniture, or dropping it on the floor, which allows it to dry, blow around, and get into our food and lungs.

We don't want to pick our nose or

watch

other people do it so we ought to investigate whether any of the nose picking is due to a

mild allergy

that the person is unaware of. If so, then if we could figure out what is causing the allergic reactions, we might be able to reduce some of the nose picking.


Every year

more

people suffer from allergies



Our nations are putting a lot of labor and resources into developing drugs and treating people with allergies, but that does

nothing

to reduce allergies. Every year there are

more

people going to doctors and hospitals to deal with their allergies. The suffering from allergies is

increasing,

and so is the burden on our healthcare system.

All of the people in leadership positions are

blaming

the increase in allergies on the

environment

, such as "climate change" and the raising of children in such sterile homes that their immune systems cannot develop properly. Although our environment has an effect on how our immune system develops, we need leaders who can acknowledge the evidence that humans follow the same genetic rules as the

animals

.

If a farmer noticed that the percentage of his chickens that were allergic to something was increasing every year, in addition to investigating whether it was due to an environmental problem, he would also consider the possibility that the chickens are

degrading genetically.

We do not have the technology to determine whether a person is suffering from an allergy because of his environment or his genetics, but we should assume most allergies are due to genetics because most of the people with serious allergies grew up in an environment that was

very similar

to their siblings and neighbors.


Why do

humans

have more allergies than

wild animals

?



Wild animals have

fewer

problems with allergies than humans. Although part of the reason could be because wild animals have less exposure to allergens than modern humans, the primary reason is because wild animals have

fewer genetic defects

than modern humans. This is also why they have fewer problems with nearsightedness, arthritis, baldness, tooth decay, weird behavior, constipation, difficulty in giving birth, and crooked teeth.

Wild animals also have a superior digestive system. They can eat raw food that has been

decaying for days,

and which is

contaminated

with bacteria, amoebas, and mold. Some animals can eat poop, bones, toe nails, and the contents of another animal's digestive system. By comparison, the human digestive system is

so defective

that we must be very careful about what we eat, and how we prepare our food.

Our ancestors developed the best

intelligence

of all animals, so why did they not develop the best digestive system and immune system? Why do modern humans have

so many more

problems with food and health than the wild animals?

Here are some possible reasons as to why humans have so many allergies and other health problems:




1) Evolution gives us only the

vital

characteristics.





We

retain

only the genetic characteristics that are

vital

to our survival and reproduction. The traits that are

not vital

will slowly accumulate defects and deteriorate, and eventually they will vanish from the gene pool, even if they are

desirable

traits.

Although there is no intelligence supervising evolution, every genetic characteristic is (or originally was),

beneficial

to the creature that has it. For an example, why do so many flowers, birds, insects, and other animals have

beautiful colors and patterns?

I think there are several reasons; specifically:


1)

Flowers

are colorful for the same reason that they produce nectar and a fragrance; specifically, it is

vital

that they attract

pollinators

.


2)

Some

animals

have beautiful colors and patterns to

attract

the opposite sex.


3)

Some

poisonous

and bad tasting creatures developed beautiful colors as a way of

warning predators

to avoid them.


4)

Some of the beautiful patterns and colors are

camouflage.



An interesting aspect of this issue is that all of the flowers and animals have
unique
colors and patterns. It is possible that the uniqueness is simply due to the random mixing of genes, but I suspect that natural selection is
favoring
unique colors and patterns for every species.
The advantage to having every species develop its own
unique
colors and patterns is to make it easier for the animals to identify members of their own species, and to identify the predators and harmless creatures, especially from a long distance. The animals that can more accurately and quickly identify other animals will have an advantage over the others.
Likewise, when flowers have unique colors and patterns, the insects and birds that are intended to pollinate them will have an easier time finding them.
Furthermore,
predators
are inadvertently causing every animal to have a unique appearance because if a species looks like their prey, then the predators would occasionally kill it by mistake, thereby eliminating the animals that resemble their prey.
This evolution is also occurring with our
material items.
For example, when humans are wearing
black
wetsuits in the ocean, they have a visual similarity to seals, which are prey to certain species of sharks. A company in Australia has responded by
experimenting
with wetsuits with stripes and patterns so that the humans look less like the prey of those sharks. As with evolution, this is a slow process of trial and error, but they will eventually figure out how to design their
Elude
wetsuits to significantly reduce shark attacks.
The same concept applies to the
odors
and
noises
that the animals make. By having unique odors and noises, the animals that depend on odors and noises will have an easier time identifying their own and other species, and make fewer mistakes about which animals are their prey.
This aspect of evolution explains why the human immune system is inferior to that of the wild animals. Specifically, as the intelligence of prehistoric humans increased, their immune system did not need to be so effective. For example, if one of them got sick after eating stinky meat, he would learn to avoid meat with that particular odor, rather than continue to eat it and suffer, as an animal would.
Likewise, if one of them was suffering from a blocked nasal passage as a result of an allergy, he would have the dexterity and intelligence to use his fingers to clean his nose, or to blow his nose, thereby compensating for his allergy, rather than suffer with breathing difficulties, like a stupid animal.
By compensating for the defects in their immune system, our prehistoric ancestors inadvertently allowed the defects to accumulate in the human gene pool.
Furthermore, prehistoric humans only had to live long enough to successfully raise children, so their immune system only had to function properly until about the age of 40, and then it did not matter if it began to deteriorate so much that they began to develop cancer, allergies, or autoimmune diseases.
Actually, it was a
benefit
to prehistoric people if their parents died soon after raising children because, as our ancestors became more intelligent and less like an animal, they would have developed an increasingly strong desire to take care of their parents, which would have
wasted
their time and resources, which is what we do today.
2)

Technology

has increased the rate of deterioration.

The previous paragraphs pointed out that our
prehistoric
ancestors inadvertently caused the human immune system to degrade, but during the past few thousand years, and especially during the past century, the degradation has been occurring at a much more rapid rate as a result of our medical care, welfare programs, and other technology. Today it is possible for
extremely
defective children to survive and reproduce.
3) We inadvertently

increased our allergens

.

We are exposed to more allergens today compared to our prehistoric ancestors because:

| | | |
| --- | --- | --- |
| | • | We live in permanent houses, work inside buildings, and travel in vehicles that expose us to a variety of dusts, molds, chemicals, insects, and pet animals. |
| | • | We surround our homes and other buildings with a variety of trees and plants from around the world, and we are also living among farms, ranches, and parks that contain animals and plants from around the world. This is exposing us to a wider variety of allergens than our prehistoric ancestors had contact with. |
| | • | We live among businesses, vehicles, and machines that produce a variety of pollutants and particles that appear to cause some people to develop autoimmune diseases, and possibly allergies also. |
| | • | A recent study of cities shows that our artificial lighting is causing plants to produce allergens during more days of the year. |
4) Our foods are no longer "

natural

".

We no longer eat the foods that we evolved for. The FDA
claims
that
eight
foods cause
90%
of the food allergies in the USA: milk, eggs, fish, shellfish, tree nuts, peanuts, wheat, and soybeans.
Sesame seeds
will be added to that list at the end of 2022, making it the
ninth
major food allergen. Prehistoric humans did
not
evolve to eat any of those nine foods.
Milk causes the most trouble of all foods, and that should
not
surprise those of us who believe in evolution because milk evolved only for
babies
. It is especially absurd for us to believe that
humans
need to drink
animal milk every day
in order to remain healthy.
The FDA realizes that milk causes a tremendous problem for a lot of people, but they continue to promote milk as one of the
primary foods
for our
daily
diet.
It is interesting to note that
fish
and
shellfish
cause a lot of allergic reactions, but not lambs, pigs, deer, chickens, and other land animals. This is evidence that humans evolved to eat
land
animals, and that large amounts of seafood is a
recent addition
to the human diet.
Further evidence that seafood is a recent addition is that we tend to
mask the flavor
of seafood with large amounts of lemon juice, butter, sauces, and spices, whereas sauces and spices are
optional
with pork, chicken, lamb, and other land animals.
It's also interesting that one of the most popular fish is
salmon
, and that might be because salmon could
easily
be caught by
prehistoric
people when enormous amounts of salmon travel up rivers to lay eggs. They would be especially easy to catch after they have laid their eggs and start to die.
I enjoy seafood
occasionally
, but I would not want to eat it
every day
. I regard seafood as providing me with "
variety
", rather than regarding it as a "
delicacy
".
Eggs are another major source of allergies. Our ancestors would have occasionally eaten a bird's egg, but it would have been only during the
brief
period of time that birds lay eggs, and most of the time they would have found only the
small
eggs of birds that have nests close to the ground. They did not have access to
hundreds of cartons
of large, chicken eggs
every day of the year

.


Furthermore, the people with an allergy to eggs are
usually
allergic to the
white
, not the
yolk
. However, our prehistoric ancestors would have eaten bird eggs that were
fertilized

,
and most of the time the people would have found eggs
after
the white portion had started the transformation into a
fetus
.
A bird fetus (
balut
, photo to the right) might classify as "
meat
", which almost nobody is allergic to (other than a small number of people who have been
bit
by the
Lone Star
tick). How many of the people with an allergy to egg
whites
have an allergic reaction to
balut

?
Incidentally, I suspect that most of the eggs that our prehistoric ancestors found were from
small
birds, and so the eggs were smaller than chicken eggs, and they probably put the entire egg into their mouth, including the shell. In such a case, they would
not
have noticed that they were eating a bird fetus. They would not have cared, anyway, since they would have become accustomed to eating that type of food.
How rare are

triple

yolks?



In my criticism of

space pornography

, I pointed out that a person cannot assume that something they experience is a common event that everybody experiences, or that life is everywhere in the universe simply because there is life on the earth. I recently experienced an example of this concept.

On 28 July 2022, I cracked two gelled eggs onto a piece of sprouted wheat bread, and one of the eggs had

three

yolks. Should I assume that

everybody

occasionally has eggs with triple yolks? Furthermore, I can only remember finding

two

yolks in an egg once or twice during my life, so should I assume that three yolks are almost as common as two?








Click photos
if you want the
high resolution versions.





The photo to the left shows the two eggs after I cracked them onto the bread, and the photo to right shows the eggs after I pushed away the white portion to make it easier to see the yolks.
According to the British Egg Information Service, only one in
25 million
eggs has a triple yolk. If that statistic is accurate for eggs in the USA, then I just experienced something that is almost as rare is winning a big lottery.
Incidentally, according to
this
website, finding a triple yolk is "
believed to be a sign of good luck and symbolize a new beginning and something special in your future!
"
It is a pity that I don't believe in such nonsense or I would be convinced that the triple yolk was a sign that
the world is finally going to improve!
We must restrict reproduction
It is
as idiotic
to believe that we can stop allergies with drugs and medical treatments as the belief that we can stop crime with jails and by encouraging people to purchase guns.
The only way to reduce crime, allergies, and many of our other problems is to pass judgment on who among us has better genetic characteristics, and
restrict reproduction
to the people who are genetically superior.
The human race is degrading genetically, and this is causing every generation to have more problems with allergies, loneliness, mental illness, physical deformities, diabetes, liver problems, and every other possible type of genetic disorder. If we continue to allow uncontrolled reproduction, the human race will eventually degrade to the point at which
everybody
is suffering from
many
serious allergies.
We need leaders who can acknowledge the evidence that humans are an animal, and we follow the same genetic rules as other animals. The only way we are going to reduce allergies, crime, unemployment, mental illness, antisocial behavior, and other problems is to pass judgment on who among us has better genetics, and
restrict reproduction.
In order to pass judgment on who among us has the genetically superior immune systems, we must
eliminate secrecy
and allow scientists to collect medical data about all of us. We must stop treating health information as "
personal
" and "
private
".
We gain
nothing
by being paranoid that other people will know the truth about our health, but each of us would benefit
tremendously
from more knowledge about health issues.
How can we determine what we are allergic to?
In order to pass judgment on whose immune system is superior, we need to know what each of us is allergic to, and how serious our allergic reaction is, but how do we determine what we are allergic to? Some businesses are offering tests for common allergens, but how accurate are those tests?
In this
survey of people who believe they have an allergy, 44% claim to be allergic to pollen, grass, or other seasonal allergens, but some of those people could be making a mistake about what they are allergic to.
Many people have noticed that their allergies are less severe in the winter, and that can lead them to the assumption that they are allergic to pollen or grass, but we ought to consider the possibility that some people have fewer problems with allergies during the winter because of other things that can change between the seasons, such as our diets, and the amount of mold in our homes.