Animals don't have any restrictions
Animals do not have the ability to set rules for behavior. Every animal has the freedom to do whatever they please. They can eat any food they please, and as much of it as they want, and whenever they feel like eating. They can get into fights with any animal at any time, and they can go to sleep anywhere they please at any time of the day or night. Male animals can chase after any female they please, and at any time they are in the mood to do so.

We restrict the disposal of waste
By the time the first cities were developing, about 4000 years ago, people had a few restrictions on their behavior. For example, the city of Mohenjo-Daro had a simple sewage system, which implies that the people had put restrictions on the disposal of human waste.

If dogs had enough intelligence to create a city for themselves, would they be interested in providing themselves with bathrooms or sewers? Not necessarily. The interest in bathrooms is an emotional issue, not an intellectual issue. Therefore, intelligent dogs wouldn't necessarily impose restrictions on their disposal of waste products. In fact, the dogs might enjoy rolling around in their poop. They might also enjoy spraying their buildings and trees with pee in order to mark their territory.

Our distant ancestors did not have any restrictions on where they disposed of waste products. However, at some point in time, some people began to encourage the others to dispose of waste in certain areas. Through the centuries these suggestions became more detailed, and eventually they became laws rather than suggestions. During the past few decades, some cities have started creating laws to put pressure on dog owners to clean up after their dog.

A few thousand years ago people discovered that there waste products were valuable as fertilizer and chemicals. Today a lot of cities are processing their sewage in order to keep the environment clean and salvage some of the chemicals. However, even in our era there are areas of the world where people are dumping waste products in the streets, rivers, parks, and vacant lots, just as we would expect from intelligent animals.

One reason I mention this issue of waste products is to show you how human culture has been changing. It was originally very similar to that of a monkey, but as our ancestors became more educated and technically advanced, some of them developed an interest in controlling the disposal of waste in order to keep their cities clean and attractive. Furthermore, we can see that these laws are still being created today, which implies that we are not finished with this process of creating restrictions on the disposal of waste products and trash. Therefore, we can assume that future generations are going to have even more restrictions, and that they will be even more detailed. What type of restrictions will future generations create? Perhaps they will have more control over animals, such as prohibiting dogs from certain areas, and employing robots to kill pigeons and other birds.

It is important to notice that each of us has a different interest in these issues, and it has nothing to do with "intelligence". These are emotional issues, not intellectual issues. Some people are not bothered by dog poop, for example. Some people are not even bothered by dogs that lick their face, and some people enjoy opening their mouth and letting their dog lick their tongue. Some people go even further and engage in sex acts with their animals.

There is no right or wrong to these issues. If a person wants to have sex with his dog, that is his decision. You could consider such a person to be disgusting, or you could consider him as lucky to have the ability to enjoy sex with another species. We cannot argue over right or wrong; rather, we have to make decisions on what we want our society to be, and what we want the human race to evolve into. Do we want humans to be emotionally attracted to animals? Do we want humans to also be sexually attracted to animals? Do we want animals living in our cities with us? Do you want pigeons in our cities? Are you willing to share in the work of cleaning up after animals?

We restrict the eating of food
Animals will eat food whenever they are in the mood, regardless of where they are, or what the consequences will be. If animals were to create a society, they would allow the eating of food everywhere.

Our prehistoric ancestors didn't put restrictions on the eating of food. Their food consumption was limited by the availability of food. They would eat food whenever they found it, and whenever they were in the mood. They would also eat in whatever manner they pleased, and they would eat as much food as they wanted to eat. They didn't follow any rules of etiquette.

Today there are a lot of organizations that have restrictions on eating and drinking. For example, many museums, businesses, and retail stores prohibit us from bringing food or drinks inside. Most parents also have restrictions on where their children can eat and drink within the house. These restrictions are intended to prevent the mess caused by eating and drinking.

Theaters and sports stadiums currently sell food and drinks to their customers, but not because they think the food is improving life for the people. Rather, they want more money. If we switch to a society that doesn't care about profit, then there is no financial incentive for any theater, social club, sports event, or other event to provide food or drinks. Therefore, I would recommend that we increase the restrictions on food and drinks to only the restaurants and picnic areas. In such a case, we wouldn't have to clean up food anywhere except in those designated areas. This would reduce the amount of cleaning that we have to share, and it would eliminate the need to deliver food and drinks to theaters and other locations. Is this a sacrifice you are willing to make?

We restrict sexual activity
Animals do not put any restrictions on their sexual activities, and as a result, they will have sex with whatever they please, wherever they please, and at any time of the day or night. During the past few thousand years, humans have been putting restrictions on sexual activity, such as prohibiting sexual acts in public, and prohibiting sex acts with children. Of course, just as some people cannot follow the rules for trash disposal and the eating of food, many people have trouble following the rules for sex acts. There are some people who rape children, for example, and others have sex in public areas, such as airline bathrooms.

In society today, we have restrictions on sex acts, and we restrict pornography to adults. However, there is no society yet that prohibits the sexual titillation of children by businesses, television programs, or movies. Also, there is no restriction on the sexual titillation of adults. I think that we should increase the restrictions to completely prohibit the sexual titillation of children, and put more restrictions on the titillation of adults.

Men might consider such restrictions to be unnecessary or even cruel, but I think life will be more comfortable and relaxing for all of us when we can go to work, parks, social clubs, and festivals without being sexually titillated by advertisements or saleswomen who dress and behave like prostitutes.

What you want in life is not necessarily what is best for you. Men are attracted to sexually titillating material, for example, but I think that being titillated all day every day is annoying. When was about 14 years old, I enjoyed the titillation, but did it help me to find a wife or have a better life? No! Furthermore, after a few decades it became irritating. Am I unusual? Or do other men get tired of it, also?

When contemplating an issue, remember to ask the question, "Who benefits?" Who benefits by sexually titillating men and teenage boys all day, every day? How has it improved your life? How is it helping your children? Do people today have better sex, or more stable marriages, or happier lives than our ancestors who didn't have access to pornography, television, movies, and other sources of sexual material? Did our ancestors suffer as a result of their lack of sexual material? I don't think so. I think humans evolved for a less sexual environment. I think this constant titillation is causing trouble.

The ideal way to determine the effect of sexual titillation would be to set up two societies that are identical in all respects, except that in one society we allow constant sexual titillation in advertisements, movies, and television shows, and in the other we restrict sexual activity to the bedroom. We would then be able to pass judgment on which society was providing a better life for its people.

If we were to create different, semi-independent cities, as I've described in other files, then each city would be free to experiment with their culture, and we would get a much better understanding of which society has the most beneficial culture. Unfortunately, at the moment all we can do is make guesses. My guess is that sexual titillation is detrimental. I think it interferes with human relationships, and it is causing men to be more frustrated than they would otherwise be. The men assume they enjoy it, but children believe that they enjoy eating candy all day, every day. We cannot follow our emotions like a dumb animal in this modern world. We have to think more often.

What do we do with people who cannot follow the rules?
We have restrictions right now on disposal of trash, but there are lots of people who simply don't care, and they are dumping trash along the streets and in vacant areas. A lot of people with pet dogs are refusing to clean up after the dog because they don't want to pick up dog poop. They want the dog to be their friend or sexual partner, but they don't want to clean up its poop. There are also lots of people ignoring the rules about where they can eat and drink.

What do we do with people who don't want to follow the rules? The only sensible solution is to restrict reproduction to the people who are better suited to this modern world. This will eventually result in a higher quality group of people who don't need threats of jail to prevent them from dumping garbage in the city streets, and who are willing to eat only in the designated eating areas.

We should also consider evicting the people who cannot to follow the rules. We should not assume that we can fix their problems with punishments or Bible lessons. Consider the men who grab at women at crowded trains. Those men are not grabbing at the women because of ignorance or because of a lack of punishment. Rather, they are having trouble controlling their emotional cravings. They are more like an animal than a modern human. Punishing them will not help them develop better mental qualities. As of today, there is nothing we can do to help those people.

The same is true for the people who cannot follow the rules for eating, or who cannot follow the rules for the disposal of trash, or who cannot resist raping children. We cannot fix the people who don't have the mental ability to fit properly in this modern era. There are a few medical problems that we can fix by changing a person's diet or providing them with insulin, but we cannot improve a primitive mind. All we can do is evict them.
Imagine living in a society in which we evicted the people who could not follow the rules for the eating of food. This would create a society in which we don't have to post signs about where and when it is appropriate to eat. The people would eat at the restaurants and picnic areas, and they wouldn't need other people to watch over them. And imagine that we also evicted the people who couldn't follow the other rules. Imagine living in a society in which the people are behaving in a respectable manner because they want to, not because we are threatening them with jail.

Don't be fooled into thinking that we are "cruel" by evicting the people who don't fit in. Life is cruel no matter what we do. If we let the misfits live with us, then we suffer. Why should we suffer? It's not our fault that they don't fit in. This is simply a characteristic of life.

We should put restrictions on courtship
Human societies have been adding restrictions to the consumption of food, sexual activities, and the disposal of waste, but we have not yet put any restrictions on courtship. In one of my earlier files I made a remark that we should prohibit men from pursuing women in the social activities that are not designed for courtship, and now I will explain this concept in more detail.

If we did not provide ourselves with bathrooms or trash cans, then we could not expect people to dispose of their waste in a sensible manner. Likewise, if we did not provide restaurants, picnic areas, kitchens, and other areas for the preparation and eating of food, it would be impossible for us to control when and where people were eating. By comparison, when we provide facilities for the disposal of waste and for the eating of food, then we can tell people to use those facilities for those particular activities. Why not apply this concept to courtship?

No society has any special activities for courtship, and as a result, no society can restrict courtship to those activities. Men and women are pursuing each other at all hours of the day and night, and in every location and activity. This courtship is occurring while people are working at their job, while shopping for food, while swimming at a lake, and while waiting at an airport to get on an airplane. Why not provide a variety of activities specifically for courtship? That would allow us to tell people to look for a partner only at those specific functions and not during other activities.

Create special activities for courtship
I think the mixing of courtship with everything else is causing trouble, and it's also wasteful. It would be more efficient for society, and more pleasant for all of us, if we created special activities for courtship, and if we forbid people from mixing courtship into other activities.
Providing special activities for courtship makes it much easier for us to meet more people, and we will get to know them more thoroughly. Finding somebody compatible requires that you have the opportunity to spend some time with them and interact with them. By providing activities specifically for this purpose, such as the "Singles Pageants" that I mentioned here, we will be able to more rapidly meet and get to know a lot of people.

If we create special activities for courtship, then we could demand that single people look for a spouse only at those courtship activities. This would allow both men and women to go to work, museums, restaurants, and swimming areas without being concerned that single people will pester them. Of course, some people will not want to follow the rules, but if we evict the people who cannot follow the rules, then we would create a society that is much more comfortable for both men and women. We would be able to go to a restaurant, lounge, social club, or public park without any concern about being pestered by people looking for a spouse, and when we were in the mood to look for a spouse, we would go to the activities that were specifically designed to help us meet one another.

It might help you understand this issue if you consider the problem of men who grab at women on crowded trains. If we could read the thoughts that pass through our mind, we would find that idiotic and crude thoughts are passing through all of our minds all the time, but most of us can control or ignore the inappropriate thoughts. The men who grab at women are not the men who think of such thoughts; rather, they are the men who cannot control themselves.

The men who are incapable of controlling themselves should be evicted from society. We should not try to fix their mental problems. This would create a society in which women can safely walk onto a train that is full of men without any fear of being touched. Likewise, by setting rules for courtship and removing the people who cannot follow the rules, we create a society that is much more comfortable for both men and women.

Although evicting people is one way of improving society, we should also look for ways to reduce the likelihood of the problem occurring. For example, in regards to the problem of men touching women on crowded trains, we could reduce the problem by letting women have different or shorter working hours so that most of them can ride the trains when the men are already at work.
Why don't the feminists try to stop the use of women as sexual props?
Unfortunately, instead of trying to reduce the problem of men being titillated by women, all societies today are aggravating the situation by allowing businesses to sexually titillate both young boys and adult men in their advertisements, television programs, and movies. To add to this problem, the women who have jobs that put them into contact with customers, government officials, or other people are under pressure from their employers to dress in attractive or sexually titillating manners.

Men enjoy the sexually attractive women at trade shows, meetings, and press conferences, and we enjoy the sexually titillating advertisements, but that doesn't justify this behavior. Just because we like something doesn't mean we should do it. Children are titillated by sugar, but that doesn't justify letting them eat candy all day, every day. We can't follow our emotions like a stupid animal in this modern world. We would create a more pleasant society for both men and women if we restricted sexual activity to our homes. When we go out in public, we shouldn't be exposed to sexual material.
Another way to look at this issue is that the attraction men have to sexual material is similar to the attraction a rat with an electrode in its brain has to an electric switch. The rat assumes that he loves the stimulation, but I don't think it improves the life of a rat. Likewise, men are attracted to sexual material, but I think we would have a more pleasant life if we were not titillated all day.

Furthermore, I suspect that men and women would have a more comfortable life if we spent most of our time with our own sex, and if we got together in our leisure time. Even riding a train to and from work would be more comfortable for men if we were not bothered by children or titillated by women. I think that when men and women are together a lot, or when men and children are together a lot, we get on each other's nerves. I think we would have more pleasant lives if men spent most of their time with men, and if women spent most of their time with women and children.

When single men and women want to find a spouse, they should go to the social affairs that are specifically designed for such activities. When men and women want to get together to socialize at dinner, festivals, or holidays, then we should be able to do so without worrying about being pestered by single people.

Provide courtship activities for teenagers, also
I think we should apply these concepts to teenagers, also. The boys and girls, when they're in school, should be learning something of value, not flirting with one another. I think it would be better if the teenage boys and girls were in separate classrooms so that they didn't waste their time flirting with each other. The boys should be learning something of value in the classroom, not being titillated by the girls. We should have special activities for the teenagers to help the boys and girls meet and get to know one another. We should also encourage them to get to know a lot of other people before they make decisions about who they want to marry.

Our primitive ancestors didn't have to do anything to help teenagers meet one another because they grew up together in incredible intimacy, but today we need help. By providing special activities for teenagers to meet one another, they will get to know dozens or hundreds of different people. Compare that to the situation today in which teenagers have to meet one another wherever they have the opportunity, such as at school or at shopping centers. Most teenagers "meet" a lot of people, but they don't get to "know" very many of them.

Another advantage to providing courtship activities for teenagers is that it gives the more "normal" boys a better chance to meet girls. In the world today, the boys who have the advantage are those who spend a lot of time chatting with the girls and giving them lots of attention and gifts. The more "normal" boys are busy doing something useful with their life, not spending hours every day at shopping malls or having hours of silly conversations with girls.

Why are coffee shops so popular in America?

Coffee shops are popular businesses in America, but I don't think it's because Americans have a fascination with high-priced coffee. Shopping malls are popular with some teenagers, but I don't think it's because they have a fascination with shopping malls. I think the coffee shops, shopping malls, bookstores, and other businesses are being used by lonely people as places to meet friends and find a spouse.

I think most people have trouble admitting that they want a spouse. We sometimes see this problem with Hollywood celebrities; after they get divorced they sometimes announce that they have no desire to get married. They cannot admit what should be obvious to everybody; namely, that nobody wants to be alone. Men are better able to deal with loneliness than women, but how many men truly want to spend their lives alone? We prefer to spend our lives alone only when we don't know somebody that we want to live with.

There is a significant difference between wanting to be alone because you don't have a desire for a spouse, and choosing to be alone because you don't like any of your choices. For example, I am not married, but it's not because I like being single. Now that I realize that I have been low on thyroid hormones, I can see that one of the reasons I never got to know many women was because of my lack of energy, especially during the evening. However, a lot of people would say I am too finicky. This brings up an interesting issue because it also applies to voting.

Voters must be finicky, but not too finicky
Most people have the attitude that they will take the "lesser of the evils". They do this when they vote, and they do this when selecting spouses, also. I can understand why animals and people do this. If you are too finicky, you get nothing. However, people can hurt themselves when they are not finicky enough.

Voting is a serious responsibility. It should not be treated as a "right" that everybody should have. Selecting leaders for society requires a lot of thought and effort. If voters are too finicky, then it will take them too long to find a candidate that they will accept, but if they are not finicky enough, they create an incompetent or corrupt government, and that will have a detrimental effect on the entire world and the future generations. Voting should not be treated as entertainment.

Voters should be finicky, and we should design our election system to enable us to pass judgment on whether the candidates should even qualify, and if not, replace them. We should not have to pick the "lesser of the evils".

We need to be finicky with selecting a spouse, also
The same concepts apply to finding a spouse. When you get married, you are altering the future of somebody else's life, and if you have children, you are affecting the future generations. People who want to reproduce should take the issue of finding a spouse very seriously. If we are too finicky, we will not get married, but if we are not finicky enough, we may reproduce with a person who has undesirable genetic characteristics.

During prehistoric times, nature used to keep this problem under control. If the people in a primitive tribe were too finicky when selecting a spouse, they would go extinct. At the other extreme, if the people of a tribe had too little concern about the quality of their spouse, then more of their children would be low-quality, and more of their relationships would be unstable. The unstable relationships would result in mothers alone with their children, which would have been difficult in prehistoric times. Furthermore, in prehistoric times, there were no restrictions on murder, and so stepfathers could kill their stepchildren, thereby reducing the number of children from people who cannot form stable relationships.

Today, however, we prevent nature from doing its job. For example, we provide assistance to the people with unstable marriages, such as alimony, child support, and laws that prevent a stepfather from killing his stepchildren. If we continue on this path, the human race will degrade into freaks who have no concern about the quality of their political candidates or spouses. They will become creatures who will vote for anybody, even a retard, and who will marry anybody, including a retard.

We should encourage people to be very finicky when finding a spouse, but that requires that we provide lots of social activities to help people meet and get to know hundreds of people. We are behaving like stupid animals or primitive savages when we expect men and women to spontaneously find each other.

We should be concerned about the quality of our children
These concepts also apply to the issue of raising children. If a couple has no concern about the quality of their children, then they will raise anything, even a child without a brain. Unfortunately, in all societies today, parents cannot be finicky about their children because we have laws to prevent the killing of defective children.

I wonder if the concern about being burdened with a defective child is causing some people to remain childless, and others to have only one or two children. If this law were removed so that parents could kill their children, would the higher-quality people be willing to have more children?

Having a law against killing your own children is like having a law to prohibit you from cutting off your own hand. Who among us needs a law to stop us from cutting off our hand? The only time you would consider cutting off your hand is if something terrible happened to it, such as severe frostbite, or if it got caught in a piece of machinery and was hopelessly destroyed. In such a case you would want it amputated. A law that forbid you from cutting off your hand would prevent you from amputating your damaged hand. Who would benefit from that?

Likewise, nobody needs a law to stop them from killing their own children, and nobody benefits from it, either. No parent would ever kill a nice child. Instead, allowing parents to kill their children would allow parents to eliminate a lot of defective children. This in turn would benefit everybody in the world, including the future generations.

If the higher-quality people are having less children because of the concern of having a defective child, then the people who have less concern about the quality of their children will have more children. This in turn would cause the human race to evolve into freaks who have increasingly less concern about the quality of their children.

Actually, we can already find a lot of parents with serious genetic defects having children that they know are defective. They don't care about the quality of their children, or whether their children have happy lives. They simply want to reproduce. Children are just toys to these parents.

We must create a pleasant environment for raising children
Americans are raising a lot of defective children, and this is giving a bad image to families. All women have a strong attraction to babies, but some women refuse to have children because they don't want to deal with the problems. Their craving for babies is overpowered by the bad image they have of raising children. This is actually a very significant and important issue. It is related to the issue of "morale", which I will discuss a bit more at the end of this article.

I had a good view of children and marriage when I was at child, but during my adult years I started developing a bad image of both as a result of observing marriages and families. Only a few marriages seemed pleasant and stable, and watching parents trying to control their children gave me a bad impression of raising children.

I visited Europe when I was about 30 years old, and I saw some families that made me realize that raising children can actually be pleasant. Some European children are just as horrible as American children, but a lot of them are much better behaved, and I saw married couples who seemed to have nice relationships, also. It made me realize that the reason I had such a bad image of families was because so many American children are badly behaved.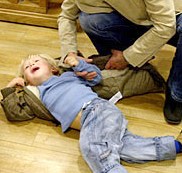 Some of the bad behavior is due to mental disorders of the children, and some of it is because the children are being raised in a terrible environment. For example, I have seen children with irrational demands for certain cereals, candy bars, and namebrand clothing, and they picked this up from advertisements and other children. I have also seen children imitating disgusting characters that they saw on Beavis & Butthead or some other television show or movie. America is not providing a good environment for raising children. America is allowing businesses, religious fanatics, and other people to manipulate children.

Why do I criticize America so often?
Some people complain that my criticism of America is due to a bad attitude, but I grew up in America, so I know it better than the other nations. If I grew up in India, I would be complaining about India. America has a lot of good features, and a lot of nice people, but I'm not writing these articles to make the American people feel good about themselves. I want to make America better, and that requires identifying its problems. You don't help a person or a nation by giving them compliments.

Incidentally, it's not just me who thinks that American children are badly behaved. I have heard other people mention that their visit to Europe or Asia made them realize that raising children can be fun. I have also heard American teachers make remarks that the Asian students, as a group, are better behaved than the American students, as a group.

Many American parents have a "loser's attitude"
Another reason American children are so badly behaved is because millions of American parents have a "loser's attitude" towards life. I suppose a lot of Canadians and Australians have the same attitude. These three nations are full of losers from Europe. A large percentage of our population are people who do not want to work, learn, or be responsible. They want to play. They do not tolerate criticism very well, no matter how constructive it is. They have trouble controlling their cravings for food, alcohol, sex, or gambling.

These parents assume, probably correctly, that their children are the same as they are and want the same type of life. Therefore, they do not want to force their children to work, learn, or be responsible, and they do not want to criticize their children. I have even met parents who resist toilet training their children. They justify this by saying that they want their children to learn at their own pace. These parents seemed to have trouble in school, and as a result, they have a bad attitude towards teaching, learning, criticism, and thinking.

By comparison, people who enjoy learning, being responsible, working, and learning a skill do not consider themselves to be cruel when they expect their children to learn, be responsible, and work. And people with the emotional strength to handle constructive criticism do not consider themselves cruel when they provide their children with constructive criticism. Actually, they consider themselves to be helping their children.

I think the manner in which parents raise their children is an indication of the mind and attitude of the parents. For example, many Americans give their children almost anything they want. I think this is because most Americans believe that the key to happiness is avoiding work and being pampered. They fantasize about becoming rich, retiring, and doing whenever they find entertaining while teams of servants pamper them.

I think this is one of the reasons that gambling and religion are so popular. Americans pray to God on a routine basis for material items, money, sex, and the death of people that they don't like. They are selfish, spoiled brats who are looking for gods, gambling, investments, inheritances, or other people to give them whatever they want. They don't want to earn what they want. They want handouts. And when they behave in a destructive manner, they ask for forgiveness from God, and they beg society to give them a second chance, and a third chance, and a fourth chance.

Why are large jackpots so appealing?
In March 2012, the jackpot for the Mega Millions lottery was $656 million. That enormous amount of money caused people to spend 1.5 billion dollars on tickets. Why do large jackpots cause more people to gamble, and with larger amounts of money?

I would expect more people to gamble when the odds were better. However, the people who gamble don't seem to care about the odds. Furthermore, they don't seem to suspect that the gambling operations are dishonest. With all of the corruption in the media, the government, the Nobel prizes, Academy Awards, and the history books, how can anybody believe that these gambling operations are one of the few honest operations in the world?

There is probably something significant in the fact that when the jackpot becomes larger, more people gamble, and they gamble with larger amounts of money. My guess is that the large jackpots are causing people to have visions of enormous amounts of material items, gigantic mansions, yachts, pampering by thousands of servants, and lots of diamond jewelry. These extreme images might be overstimulating the people. By comparison, when the jackpot is small, people have visions of paying their rent check for one month, or purchasing groceries for a few weeks. Those images are not very exciting. Perhaps the lesson to learn is that if you want to manipulate people, give them a fantasy that stimulates them to such an extreme that they have trouble controlling themselves.

Judge a society by its behavior
Many Americans boast that we are "the greatest people in the world", but only some Americans are actually wonderful people. An enormous percentage of the American population are - as the Statue of Liberty says - the "wretched refuse".

We have to judge people by what they actually do during their lives, not by what they claim to be. Many Americans cannot form stable friendships, marriages, or business partnerships. An enormous percentage is also very religious, and many have alcohol and drug problems. These are not the characteristics of the greatest people in the world. These are characteristics of people with mental disorders. Not surprisingly, when these people have babies, their children tend to have mental disorders. Their psychotic children are difficult for the parents to raise, and they are a nuisance to their neighbors, school teachers, school bus drivers, policemen, and retail store clerks. To make the situation worse, businesses and religious fanatics are manipulating those psychotic children!

Have you ever visited a high school or college? If so, do American children inspire you to be a teacher? I thought the situation was bad when I was in high school, but I think it's worse today. Furthermore, I think the awful behavior of American children is causing a lot of Americans to either remain childless, or have only one or two children.

There is no concern in any society yet about "morale". Nobody cares whether married couples are inspiring other people to get married, or whether they are giving marriage a bad image. Nobody cares whether children are inspiring us to raise children, or if they are giving children such a bad image that we want to remain childless. As of today, human societies are not much more advanced than packs of animals. Most people merely exist from one day to the next with no concern about what other people are doing, or what effect other people have on society. People like Josef Fritzl and Philip Garrido can live in our neighborhoods for decades without anybody noticing or caring.

This modern world needs people who can face reality and understand our animal qualities. We should not pretend that we enjoy being alone, for example, or that we don't need any help in finding friends or a spouse. We should not pretend that we enjoy sitting in a coffee shop and drinking expensive coffee from a Styrofoam cup. Women should not pretend that they do not want babies.

We should understand our mental characteristics and design society to be more appropriate to what we really are. We should not have to look for a spouse or a friend at a coffee shop, or at a shopping mall, or while riding a train to our job. Instead, we should design a city with lots of different social activities to help us meet one another to find both friends and a spouse. We should design our city with lots of free lounges, patio areas, recreational areas, restaurants, and snack bars so that we have lots of areas for socializing. Furthermore, we should separate our activities. We should socialize in the areas that are designed for socializing, and we should look for a spouse at the activities that are designed to help men and women meet one another. We should not look for a spouse while riding a train or while working at our job.

Why are young girls having boyfriends?
Until recently, fathers and brothers would watch over their daughters and sisters and provide some guidance to them in regards to boys, but today parents pamper their children; let them do almost anything they please; and keep them ignorant about sex, relationships, and marriage. Boys and girls need to be prepared for life, not entertained and pampered.

Many young girls are having what they refer to as "boyfriends", but what type of relationships are these? These girls are not getting married to these boys, so what are they doing with these boys? What do they want boyfriends for?

I get the impression that young girls want boyfriends only because they enjoy the attention that the boys give them, and many of the boys also provide them with gifts and various types of entertainment. These girls could be described as exploiting the boys because the girls are getting a lot from the boys, but what do they give the boys in return? The boys get nothing but the fantasy that eventually they will be able to have sex. I would describe these relationships as crude, disgusting, and abusive because the girls are using the boys for entertainment and gifts, and the boys are only looking for sex. They are not "human relationships". Rather, they are the type of selfish, crude attractions that we see with animals.

If I had managed to get a girlfriend when I was a young teenager, it would have been for sex, not for marriage or a family. I would have formed the same crude relationship that other boys my age were forming. This brings up a point that I've mentioned before. Children are not miniature adults. They are more like animals. The relationships that children form are crude and selfish. We are foolish to let young girls form relationships with boys. They do not have the mind of an adult woman. They are more like animals, and their relationships are disgusting. Listen to the conversations of young girls if you think I'm exaggerating about their crude mental qualities. Young girls should meet boys and get to know them, but they should not be forming relationships with them.

From my own casual observations, most of the relationships that develop among young teenagers turn out to be failures, and some of them are very unpleasant. Young girls make terrible decisions about boys, and young boys are only fascinated with sex; they're not seriously interested in marriage.

Our society is not doing a good job of preparing boys and girls for marriage, families, jobs, or society. Actually, we are allowing children to be contaminated with propaganda from religious fanatics, feminists, sociologists, and other anti-scientific nitwits. Children are also being kept ignorant about sex and the animal qualities of the human mind. Furthermore, no society cares that businesses are titillating the boys with sexually stimulating television shows, movies, and advertisements, and they are titillating the girls with cosmetic products and books of romantic fantasies. Also, no society is doing much of anything to stop the pedophiles.

I think that children are being raised in a terrible environment, and this in turn is making it more difficult for them to make good decisions about relationships, jobs, marriage, and life itself. I was full of feminist nonsense when I was a teenager, for example, and I don't think the situation has improved for teenagers today, and it might even be worse.

We would create a more pleasant society if businesses were prohibited from exploiting children; pedophiles were removed from society rather than elected to Congress; schools were providing children with serious information about sex, relationships, pregnancy, venereal disease, divorce, abortions, and the animal qualities of our mind; and if the city provided special activities for young boys and girls to meet one another.

What are fathers to do with their daughters?
When girls become teenagers, they start developing a desire to look pretty and put themselves on display. They are behaving like a flower that is opening up and waiting for a bee to pollinate them.

When girls are kept ignorant about sex, relationships, and the animal qualities of the human mind, then they will not understand what they are doing. They will assume that they spend hours every morning trying to look pretty simply because they enjoy looking pretty, and they will assume that they like to go out in public simply because it is fun to do so.

Teenage girls need to be taught that they are at the age at which their emotions want them to start looking for a man, and they need to take this activity seriously, not treat it as fun or entertainment. They need to understand that the reason they want to look pretty is that they are like a flower that is competing for the bees.

Most people in the world today cannot handle reality. They live in a fantasy world, usually full of religious nonsense. In this modern world, humans need to be able to enjoy reality and understand the animal qualities within us. Teenage girls need to understand their emotions, not follow their emotions like a stupid animal.

The boys and girls in prehistoric times knew one another better than brothers and sisters do today because there were absolutely no secrets in that era. Since they intimately new one another to a much greater extent than people know each other today, they didn't have to "meet" one another. They only had to flirt with one another and pick somebody that they enjoyed. They didn't have to make any intellectual decisions. Furthermore, everybody in a prehistoric tribe was compatible with everybody else. The tribe didn't consist of a mixture of religions, races, and illegal aliens. They didn't have to worry about gypsies, homeless people, pedophiles, or crime networks. It was safe for a girl in that era to follow her emotions.

The situation today is significantly different. Millions of us do not even know much about our own neighbors. The secrecy and privacy that we have today is preventing us from knowing the people we live with, and so we must get to know people before we can make decisions on who we want as a friend or spouse. But how can we get to know people? We need to create activities specifically for this purpose. After we get to know a lot of people, then we can make decisions on who we want to form a friendship or marriage with.

Society should provide a lot of activities for boys and girls to meet and get to know one another, and they should be told to first get to know lots of people of the opposite sex before thinking about forming a marriage.

Another difference about life with our prehistoric ancestors is that fathers and brothers would help their daughters and sisters find a spouse. If a father thought that his daughter was being taken advantage of by a man, he would try to stop the relationship. Today the situation has reversed itself. The men are becoming submissive to the women. The feminists are trying to stop fathers from interfering with their daughter's selection of boyfriends and husbands. Women are being told to liberate themselves from the abusive men; to follow their emotions rather than their father's advice.

A lot of men and women have wanted to meet me, have sex with me, and marry me during the past 10 years, but they have turned out to be wolves in sheep's clothing, such as Peggy Borger and Daryl Smith. Furthermore, a Jewish boy is pursuing my niece, as I mentioned here, but I doubt that he is really interested in her. I suspect that his family is hoping that they will somehow get some information to allow their criminal friends to manipulate, kill, blackmail, or kidnap me.

The reason I bring this issue up is that the manner in which Jews have been pursuing me and my niece make me wonder, how many other people are being pursued by Jewish criminals? And how many people are being pursued by non-Jewish criminals? How many people care that our society is full of criminals, psychos, and freaks who are pursuing us for friendship and marriage? Is anybody looking after your daughter, sister, or niece? How many fathers are trying to protect their children from bad relationships? How many parents are willing to do something to help their children? And how many parents are rasing children simply for entertainment?

How many adults are bitter and angry?
I suspect that one of the reasons that some adults do not want to help teenagers meet one another and form stable relationships is because they are bitter that their own childhood was miserable, awkward, frustrating and lonely. They had a miserable childhood, and they want everybody else to have a miserable childhood, also.

Animals are selfish creatures who do not get any pleasure out of helping strangers or future generations. The humans who react to problems with bitterness or anger are behaving like animals. They are not suitable for this modern world. We all experience problems with life, and if each of us were to react with anger or bitterness, we would have a miserable world.

I could be angry and envious at all of the men who have healthier bodies, and I could be bitter that other men are getting women. However, I quietly accept my problems. Life is like a smorgasbord. There are lots of pleasures, so if you miss out on some of them, just deal with it and enjoy the others.